Meet on Biscayne Bay
Miami Event Venues
When it comes to meetings, there's no place like the InterContinental. Our spaces offer a unique blend of elegance and adaptability; coupled with delectable catering and attentive service, they present the complete package for any event planner.
Amenities and Services
100,000+ square feet of event space
35 meeting rooms
In-house catering
State-of-the-art A/V equipment
High-speed WiFi
Rooftop pool
Sauna, steam room, and more at mySpa
24-hour fitness center
Complimentary Tech Lounge
Alamo car rental service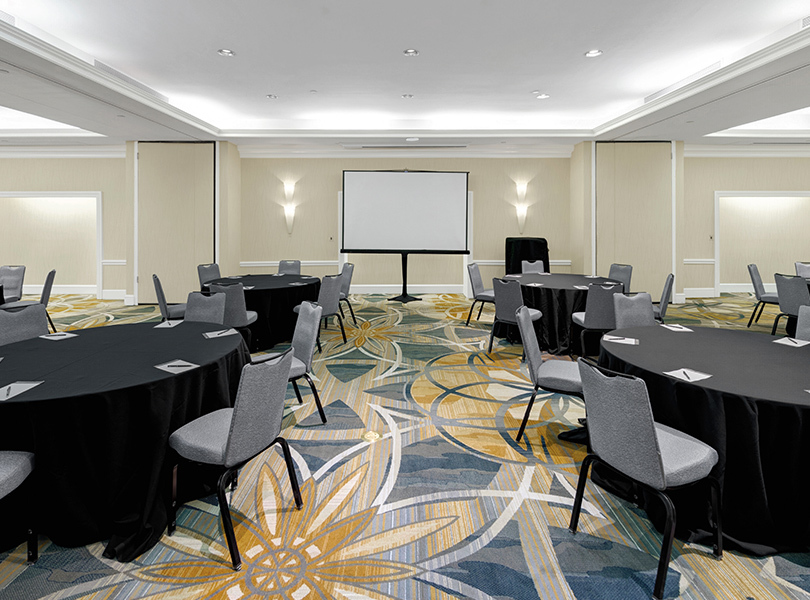 Junior Ballroom
2,458 sq. ft. SQ. FT
160 guests GUESTS
Ideal for meetings that require an added measure of privacy, the versatile Junior Ballroom has a private foyer and three separate entrances.
Take a tour
Sevilla Meeting Venue
3,776 sq. ft. SQ. FT
115 guests GUESTS
Featuring an attractive wood-paneled tray ceiling with recessed lighting, the Sevilla accommodates up to 115 guests seated classroom-style.
Take a tour
Trade Meeting Venue
2,001 sq. ft. SQ. FT
36-40 guests GUESTS
Warm oak paneling and elegant inverted pendant fixtures make this well-lit room ideal for high-level meetings.
Take a tour
Brickell Meeting Venue
4,437 sq. ft. SQ. FT
66 GUESTS
Located on the second floor, the Brickell is a modern, distraction-free setting for conferences and meetings.
Take a tour
Grand Ballroom
13,314 SQ. FT
2,000 GUESTS
With its wood and glass paneling, recessed chandeliers, and space for 2,000 guests, this 13,000-square-foot event hall leaves an impression.

Take a tour
Biscayne Ballroom
Painted beige and highlighted with wood striping, the Biscayne Ballroom is as versatile as it is pretty: Arrange it like a theater, a classroom, or more.
Take a tour
Chopin Ballroom
With vaulted ceilings and views of Bayfront Park, this unique room will create lasting memories all the same.
Take a tour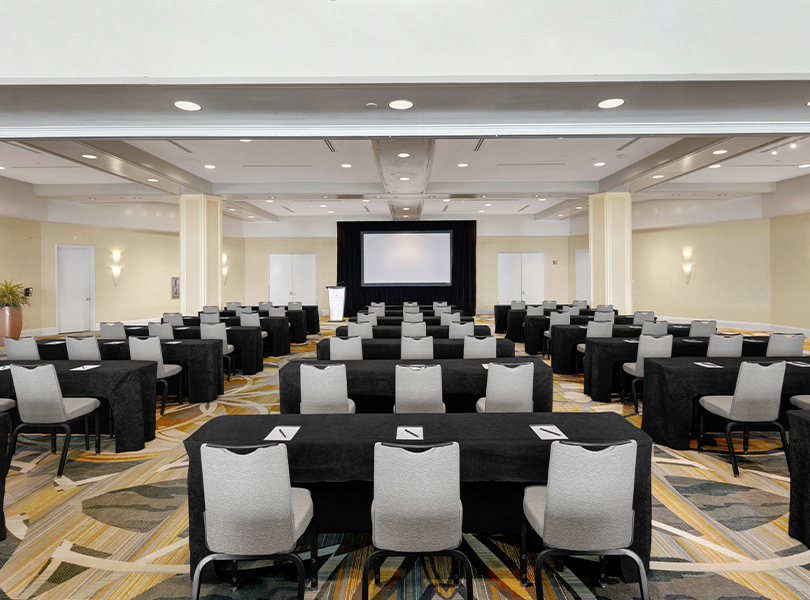 Bayfront Ballroom
Floor-to-ceiling windows. Ranging views of Miami's bay and port. Book the entire ballroom — or part of it — and enjoy the city's finest meeting space.
Take a tour
Skylawn
35,000 SQ. FT
1,000 GUESTS
Located on the 5th floor pool deck, the hotel's sprawling SkyLawn offers 35,000 square feet of outdoor event space overlooking the Miami skyline. This vast turf area features a pre-reception lounge, projector wall, and more.
Take a tour
Breakout Rooms
247-3,776 SQ. FT
8-300 GUESTS
Looking for something smaller? Consider one of our breakout spaces. These 29 rooms provide the InterContinental experience in intimate settings; view our capacity chart for more information.